WEEKLY SUMMARY:
| | | | | | | | | |
| --- | --- | --- | --- | --- | --- | --- | --- | --- |
| Goal | | 180 | 25 | 25% | 45% | 40% | 50 | |
| DATE: | | WEIGHT: | BMI: | BODYFAT: | BODY H2O: | SKEL.MUSC: | MET AGE: | TOTAL INCHES: |
| 5/7/2023 | Su | 200.7 | 29 | 36.6 | 43.5 | 36.9 | 60 | 202 |
| 5/8/2023 | M | 199.6 | 29 | 36.6 | 43.5 | 36.9 | 60 | 202 |
| 5/9/2023 | T | 196.4 | 29 | 36.6 | 43.5 | 36.9 | 60 | 202 |
I'm actually enjoying tracking all this data – it's easy with the Renpho smart scale and app. I got my real numbers when I weighed myself this morning before my shower. Whew – my body fat percentage is 36.6%, so it's between my guess of 30% and my end-of-day measurement yesterday of 39%. Per the 4 hour body book my goal as a woman is 25%, so I have a ways to go.
Cold turkey off sugar without headaches
Finally feeling close to my normal energy, I'm almost back up to speed from the flu, and still absolutely no headaches from going cold turkey on sugars and carbs. Not only that, but I'm not craving sweets, either, something else I've always had to deal with on other diet plans. My weight is already dropping dramatically, but we all know that's often from water weight and to not take it too seriously. I'm fine with slow, gradual, steady weight loss and improvement in my numbers over time. So I won't freak out if the weight goes up and down here or there, as long as I'm making progress over time.
The power of momentum
But I will say that having immediate success is a huge motivator. I've noticed in the past that if you can get into the forward-moving momentum of any weight loss plan, it gets easy to stay on it and keep riding that wave. Getting started is often the hard part, and Tim Ferriss in his slow carb diet book (4 hr body) actually talks about reaching that inner place energetically where you're ready and motivated to focus on real change.
The power of momentum works the other direction as well – most of us have experienced that when we start to cheat a little, it can often snowball into a full day of cheating and then giving up on the diet.
So I want to focus on the forward momentum and ride this wave. Having a fast improvement in numbers right away is a powerful motivator, for sure. It feels darn good!
Lunch at a cafe
Today I met with my writer's group at a local cafe. Thankfully their simple menu included Chef's Salad. It was very good; I had it with Ranch dressing. No beans for lunch today.
TWEAK: I didn't bring my sweetener with me, so I ordered a medium Americano with a Tablespoon of whole cream and sugar-free coffee syrup (caramel). It was pretty good, but I disliked the sugar-free aftertaste.
TIP: Always carry your natural sweetener with you.
Can I do minor tweaks with slow carb diet recipes?
I want to know if I can follow the 4 hour body slow carb diet with minor tweaks here and there – will it still work if I'm sometimes not 100%? We will see. Some diet plans like Keto and Paleo didn't seem to work for me if I wasn't following all the rules 100% (or 98%) of the time. So this factor – aka REAL LIFE – will be a part of my 4 hour body review.
Supper: fast low carb recipe
For supper I tried out a recipe in my Better Homes and Gardens cookbook (a great basic cookbook to have and should be in everyone's kitchen). This was super fast and easy to make as well as being a healthy low carb recipe (aka slow carb recipe). I tweaked it a little from the original.
Mexican Pork Chops
Serves 4.
4 pork chops (ideally 3/4″ thick)
black pepper
cooking oil for high heat (avocado, macadamia, peanut, etc.)
1 15-oz can of beans (black, red kidney, or pinto beans)
1 cup salsa of your choice
1 Tablespoon fresh cilantro or parsley
Several sliced pickled jalapenos (optional)
Plain yogurt or sour cream (optional)
Take four pork chops and rub black pepper onto them, then fry in hot oil over medium-high heat for about 2 minutes per side. Remove and drain fat.
Into the same skillet pour 1 can of drained beans. Add 1 cup of salsa. If you have it, throw in some fresh cilantro or parsley. I also threw in some sliced pickled jalapenos with a little jalapeno juice.
Add the pork chops back to the skillet and bring to a boil. Reduce heat and simmer, covered, for about 5 minutes or until no pink remains in the pork and the juices run clear.
Serve topped with dollops of plain yogurt or sour cream if desired.
This was quick and easy and we enjoyed it very much. I've noticed that the Better Homes and Gardens website has a LOT of awesome-looking recipes for bean and meat dishes, so I'll have to explore there, too.
My sweet ender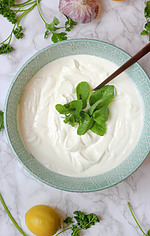 I was wanting a dessert tonight, so I scooped about 3/4 cup of plain Greek yogurt into a bowl and added monk fruit sweetener and a little lemon extract. Stirred it well and enjoyed it with a small spoon to get lots of yummy sweet scoops. It was very good and hit the spot for an ender. Since I've just come off of antibiotics, I'm focusing on getting as much plain Greek yogurt into me as I can. The Tim Ferriss slow carb diet also recommends probiotics. I could have added real lemon juice or peel, as Tim does recommend citrus like lemon water, especially on Binge Days.